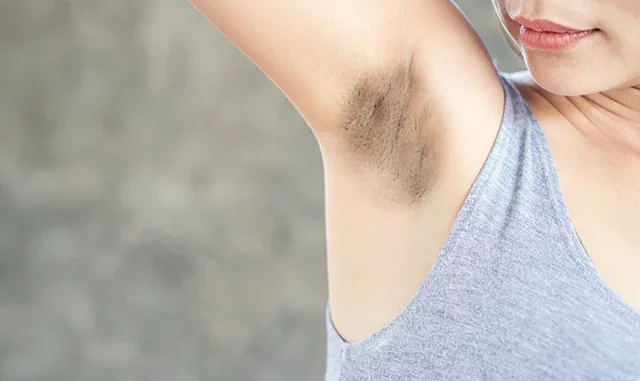 It's possible that the reason you don't wear your favourite sleeveless dress is because of your dark underarms. Dark underarms can be caused by a change in the pigmentation of the skin or by an accumulation of dead skin cells. This, however, is something that may be remedied with several reliable cures for dark armpits. The following are some suggestions for lightening dark underarms at home, as well as some home treatments for dark underarms. Perhaps one of these will help.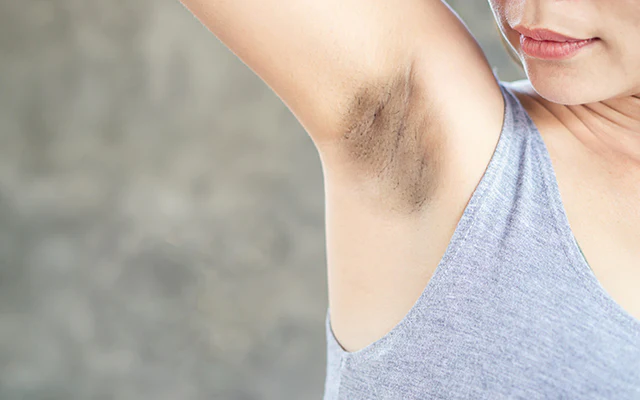 What Causes Dark Underarms?
Finding a treatment for dark armpits requires first determining what causes them. If it is because of an imbalance in the hormones, then there are drugs that can treat it. The following are some of the most common factors that contribute to dark underarms:
1. An increase in the serum level of cortisol
Cortisol serum is a steroid molecule that is naturally produced by the human body. It is a hormone that helps regulate stress. Any rise in the level of serum cortisol may be responsible for a darkening of certain regions of a woman's body, specifically the neck and underarms. The serum cortisol test can tell if the increase in cortisol levels that has been seen is the cause of the darkening of the underarms or not.
2. The use of deodorants and antiperspirants
Alcohol makes up a sizeable portion of both the antiperspirants and the deodorants that are being sold. In many cases, this alcohol will react with the skin and cause irritation in the armpits, ultimately leading to the burning of the skin. The end result is that the skin has a discolored and darker appearance.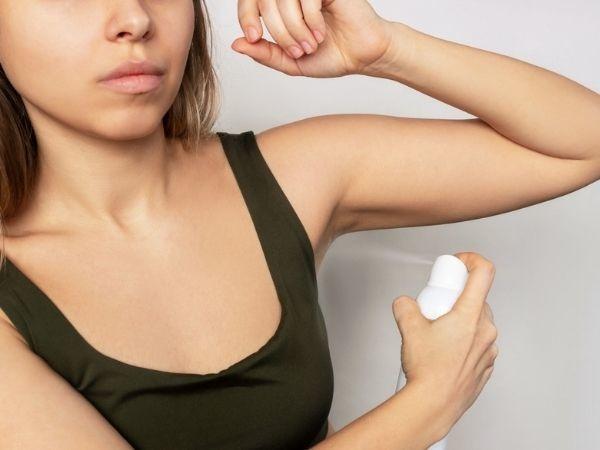 3. Razoring
Even though shaving is a great practice for personal hygiene, it also has the potential to be one of the factors that lead to dark underarms. When you shave, you take off the skin's most superficial and protective layer, which is called the epidermis. Because of this, the skin is more likely to be harmed by abrasive substances, sweat, dust, and other such foreign particles. These particles have the potential to quickly cause irritation and burns to the skin.
4. An Uneven Level of Hormones
Women who have thyroid gland issues or Polycystic Ovary Syndrome (PCOS) are more likely to have dark armpits than women who do not. Additionally, the use of birth control pills may cause darkening of the underarm skin.
5. Friction Due to tight clothes
Inflammation in that region is frequently brought on by the use of constricting clothing that does not leave enough room for breathing. This results in a darkening of the underarm area. Put on some loose cotton garments so you can avoid this. The synthetic garments react aggressively with the skin, causing the underarms to appear stained.
Home Remedies for Dark Underarms
There are various home cures for dark underarms. The following is a list of some of them.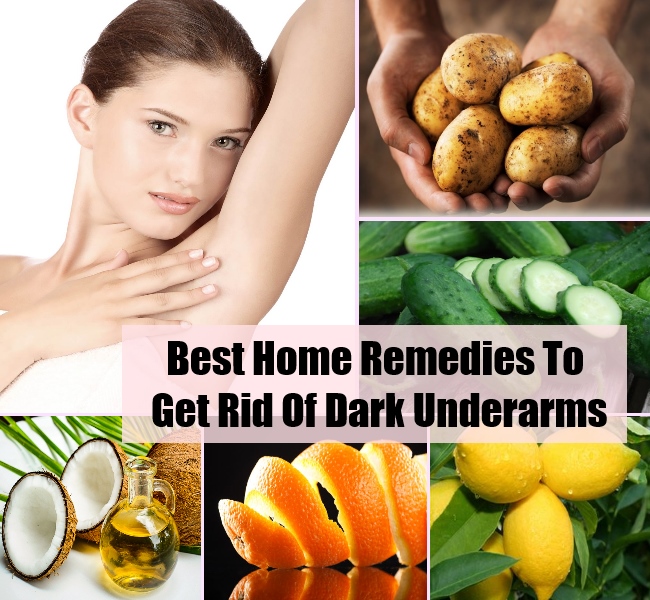 1. Baking Soda
Baking soda is an amazing home treatment for whitening the underarms quickly, and it delivers results. Baking soda is well-known for its ability to exfoliate the skin, which means that it can help clear out clogged pores. To put it to use,
Combine one tablespoon of rose water with four tablespoons of baking soda in a mixing bowl.
Apply this to the darker areas of your underarms using a cotton ball, and then wash it off after it has been on for five minutes.
2. Tea Tree Essential Oil
In spite of the fact that it is very little to no research available, it appears that using this oil to treat black spots on the skin is not only safe but also effective. To put this to use,
In a bottle with a spray nozzle, combine equal parts water, Tea Tree Oil, and carrier oil using the ratio of 5:1:1. 
Use this spray regularly on your underarms, and then wash it with water.
3. Potatoes
Potatoes work to lighten the dark patches by acting upon them. Follow the methods below in order to use potatoes to lighten dark underarms,
Squeeze the liquid from the potato slice by squeezing it.
Utilizing a cotton ball, apply it to the skin beneath the arms that have been discolored.
After 10 minutes of application, wash it off with water to remove it.
4. Apple cider Vinegar
Vinegar made from apple cider is a tried-and-true remedy for eradicating darkness of any kind. To put this to use,
Put two tablespoons of baking soda and two tablespoons of vinegar into a bowl. Mix well. You are going to see that there is some bubbling.
Applying the paste to the underarms should be done once the bubbling has subsided.
After twenty minutes, you should rinse it off.
5. Aloe Vera
Since ancient times, people have recognized the healing and purifying benefits of aloe vera. According to research, aloe vera may have a beneficial effect on skin that is both clean and radiant. It works on the dark areas, and it lightens them up to an adequate degree. Here are the steps you need to take to use aloe vera to lighten dark underarms,
After removing the aloe vera gel, place it in the refrigerator to keep it fresh.
Apply this gel to your underarms and let it sit for about 15 minutes before washing it off.
6. Turmeric
In addition to having antibacterial characteristics, turmeric is effective in healing both the skin and the body. To put this to use,
Take a tablespoon of honey, a tablespoon of turmeric, and a tablespoon of yogurt. Mix all three together.
Put this paste on your dark underarms and let it stay there for about ten minutes.
Remove it with water that is around room temperature.
7. Multani Mitti
Multani mitti has been used for centuries due to the antibacterial and skin-enhancing characteristics it possesses. To put this to use,
To a bowl containing water, put in two tablespoons' worth of Multani mitti. Combine this ingredient with one tablespoon of freshly squeezed lemon juice.
After massaging this paste into your underarms for ten minutes, wash them with a gentle cleanser to remove any residue.
8. Lemon Juice
Lemon juice has traditionally been used for its cleaning and antimicrobial effects. To put this to use,
Put some milk in a bowl and then add some slices of lemon to the milk.
After scrubbing for ten minutes, you should then rinse your underarms.
9. Alum
To utilize alum, mix it thoroughly after adding two tablespoons of alum powder.
Apply the paste to your underarms and allow it to sit there for approximately fifteen minutes.
Remove it with water that is around room temperature.
10. Greek yogurt
Yogurt is well-known for the beneficial effects it has on one's complexion. To put this to use,
Combine two tablespoons of Greek yogurt with one tablespoon of honey in a mixing bowl. Combine thoroughly.
After applying, keep the pressure on for ten minutes. It should be washed with ice water.
11. Orange Peels
Orange Peels It is possible that use it as an underarm whitening home treatment by applying it to darker areas of the underarms. To put this to use,
Put powdered orange peel in a basin and combine it with milk to produce a paste.
Apply this to the darker armpits and wash with cold water.
12. Rosewater
Rosewater has been shown to have anti-inflammatory effects on the skin in many studies. In addition to that, it has a pleasant scent. To put this to use,
Mix one tablespoon each of honey, rosewater, and turmeric.
Massage this paste into your underarms, then wait ten minutes before taking it off.
Rinse with lukewarm water.
13. Sunflower Oil
In order to utilize sunflower oil, combine four tablespoons of sunflower oil with two tablespoons of almond oil in a mixing bowl.
This should be massaged into the armpits for ten minutes.
Remove it with water that is around room temperature.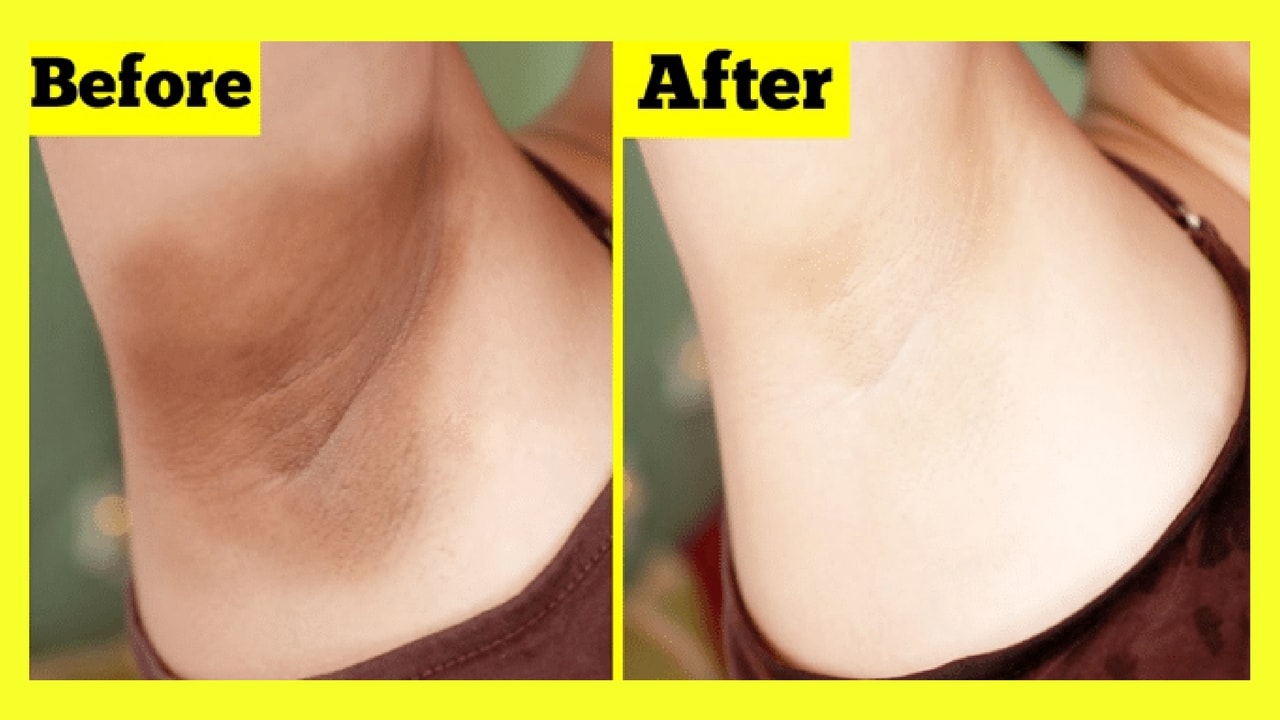 Modifications to Your Way of Life That Will Help You Whiten Your Armpits
A few aspects of one's lifestyle may also contribute to the development of dark underarm skin. Let's take a look at other underarm whitening tricks that can be of extra assistance.
1) Stop Smoking: As per the study, smoking causes your skin tone to turn darker as the nicotine affects the melanin pigment. If your underarms are dark, you might want to stop smoking or cut down on how much you do it.
2) Exfoliate: The underarm skin pores sometimes get clogged with dust and other debris. This results in the formation of dead skin cells and leads to discoloration.
3) Wear loose-fitting clothing: Wearing garments that are too big for you allows your skin to better breathe and provides space for it to perspire.
4) Replace your deodorant and antiperspirant: If you notice dark patches on your skin, which may be caused by the reaction of alcohol to your skin, swap out your antiperspirant and deodorant.
Some other tips to glow underarm skin
How exactly can toothpaste eliminate dark underarm skin?
Because toothpaste contains bleaching agents, it is possible to use it as a home treatment for whitening the underarms, and the results will be seen quickly. However, you should only use white toothpaste because the colored varieties include chemicals that can be irritating to the mucous membranes in your mouth.
Read More: What Do those Toothpaste Color Code Says?
Is Lemon Beneficial for the Armpits?
Lemon possesses characteristics that allow it to exfoliate, and the acidic quality of the fruit also makes it an effective bleaching agent. Therefore, it has the potential to be utilized as a treatment for dark underarms.