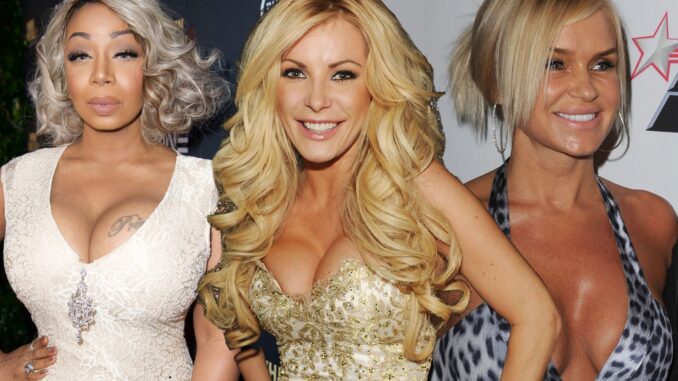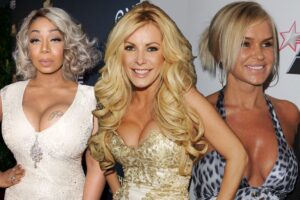 Breast Enlargement or Augmentation is one of the most common surgical procedure that people have to enhance the shape and structure of the breasts. According to American Society of plastic surgeon every year more than 250,000 breast implantation procedure placed and It is rising every year.
Usually women have this procedure to make their breasts bigger and fuller. This can also be done for reconstructive purposes such as after mastectomy for breast cancer or for cosmetic reasons.
There are various celebrities who've had plastic or cosmetic surgery for their breasts and have openly said that they have had the procedure.
Celebrities who have the plastic surgery are always the target of paparazzi because with the stardom comes a responsibilities of awareness. Teenagers who follow these celebrities like a die hard fan usually gets star-struck and want the same plastic or cosmetic surgery as the celebrities.
There are two basic methods of breast implant:
Saline : Saline-filled implants are silicone shells filled withe sterile salt water (saline).
Silicone: Silicone- filled implants are silicone shells filled with plastic gel (silicone).
The question that arises here is why people get these procedures done?
1. For their self-esteem and self image: We live in the society of judgement and people who'd do anything to pull you down. In this chaos, people especially women have insecurities about their appearance and when this insecurity creeps into you, you want to change it. Thus, they opt for plastic or cosmetic surgery to boost up their self esteem. Celebrities have admitted to have surgeries which in return have lifted their self esteem.
2. Size: Some women/celebrities have small breasts and thus they opt for the surgery. Breast implants can give such women who have small breast a fuller and bigger breasts.
3. One Breast is larger than other : Asymmetrical breasts are pretty common reason for women to have breasts implanted.
4.Breasts changed shape post pregnancy: Some women find that post pregnancy, their breast droop or gets smaller. So, to get back their breasts they have surgery.
Note that they can get pregnant again and this implants won't harm them or the baby and they can nurse them easily.
5. Want to boost their sex life: According to surgeons, women who have breast implants typically experience higher level of sexual arousal and satisfaction.
Here we look into some celebrities who have had their breasts enlarged (which is one of the many procedures that comes under cosmetic surgery). These celebrities have never denied of having the cosmetic surgery and they have no regrets of having them.
Gwen Stefani:  
Evergreen celebrity with changing appearances. Singer and songwriter, Gwen is appreciated and loved by millions of her fans all over the world. She has also gained fame with her successful career of actress and fashion designer. With that kind of success Gwen always kept changing her appearances. Thus, she had her breast enlarged from 32B cup to 32C cup.
Kourtney Kardashian:
Kourtney Kardashian was just 21 years old when she underwent injections to get her breast enlarged and she regrets getting this procedure done even though she looks flawless with those breasts. She said "I wish I never did it. I had great boobs.
Now I'm going to have to get them redone at some point." Also some surgeons said that "Kourtney Kardashian likely had a rhinoplasty since her nose appears more refined and straight in her recent appearances.
Sarah Jessica Parker:
Sarah gained fame after "Sex and the City" by the role of Carrie Bradshaw. With the growing success and limelight always on you, one always wants to look perfect and same was with Sarah! Thus, she had her breasts  enlarged and looks gorgeous and stunning as always. 
Iggy Azalea
Famous for her hourglass figure, the Australian singer-rapper Iggy Azalea has also undergone surgical procedures to look perfect and she has never denied the rumours. She had breast enlargement procedures to which she said in 2015  "Four months ago, I got bigger boobs! I'd thought about it my entire life. I love them so much I had to talk about them"
The blonde beauty added, "I think people should be more accepting of the fact that both famous and non-famous women are having cosmetic procedures. That's just the reality. And I think more people need to admit that s–t so it doesn't have to be so taboo — because we're all doing it anyway."
Britney Spears:
It's Britney B***h!  Well she started her career in 1990s with a flat body and wanted a bigger breast obviously to look more beautiful in the music videos. Britney got her breasts enlarged with her mother's consent and later got them removed. But now she has them back and her breasts are huge and beautiful.
Kaley Cuoco:
Star of "The Big Bang Theory", Kaley is one of the highest paid actress in the Hollywood. She has been spoken about her breast enlargement procedures.
In an interview with Redbook magazine, Cuoco stated that, "I had no boobs! And it really was the best thing ever! I always felt ill-proportioned. My implants made me feel more confident in my body. It wasn't about trying to be a porn star or wanting to look hot and sexy." She is dedicates her success and confidence to her parents.
Anna Faris:
We usually see that divorce ends up messy but not in Hollywood because everything happens for a reason. Anna Faris got her breast enlarged after ending her first marriage to Ben Indra and her response was "it was fucking awesome" You should do somethings for yourself no matter how much everyone criticises you.
"I wish that we were more supportive of each other. I think that people should be able to do whatever they want, whether it's getting braces, bleaching their hair, getting extensions, getting a boob job, getting vaginal surgery, or getting a nose job," she said.
Naya Rivera
Former Glee star, Naya Rivera in her memoir , "Sorry Not Sorry" revealed that she had breast enlargement done when she was in high school. I went around to all my teachers, told them I was going to be out. 'I'm getting plastic surgery!' I'd tell them gleefully," she wrote. "My new boobs were a confidence thing, not a sexual thing," Naya added. "I'd never even taken my top off for a guy. I hadn't had many opportunities to do so, but even if I had, my bra was always stuffed with napkins." Some people claimed that Naya has gone various surgical procedures like nose job and Botox which she doesn't want people to know.
Well getting a surgery is a good thing or a bad thing that depends on one's own thinking because if something is white for me it may be black for you, but if changing something in you can have that confidence and charm back in you then I'd say go for it because nothing in the world matters to you more than you. YOLO! Just don't overdo it.
For someone else it is fake breasts but for you just – a new way to get more confident.
Note – The age for breast augmentation must be 18 years and above. Look for a surgeon who is experienced.
image credit – latestplasticsurgery.com