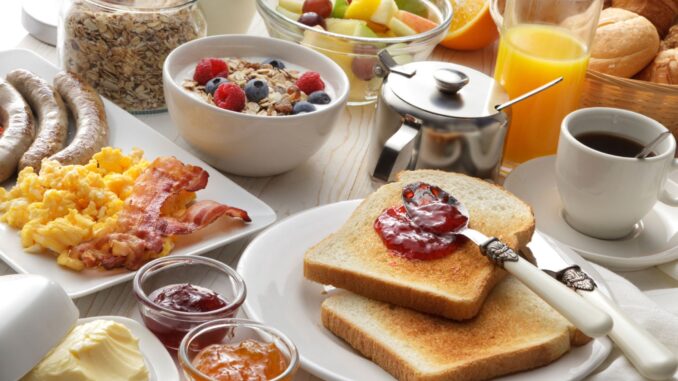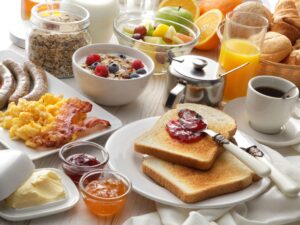 This article is specially written for those breakfast bunkers who will give you numerous reasons for skipping the breakfast. These lazy morons are die-hard believers of the ' brunch is good' theory.
Hey, wait a minute ! has one of the species brainwashed you to skip breakfast and switch to brunch bang theory ?
Then this article is a ' must read ' for you. If you have unfortunately evolved as a 'breakfast bunker'  and just hate taking any food item early in the morning, please read on.
We believe you would definitely find out why breakfast is so vital for our body and how healthy breakfast ideas can change your life forever.
Nutrition experts around the world have advocated the necessity of 30 grams of protein in a healthy breakfast idea. Rich sources of protein are Eggs, Milk, Cheese, Fish, Tofu etc.
Here are a few life changing benefits of adding healthy breakfast recipes in your
daily diet.
1. One who hates obesity must love healthy 'protein rich' breakfast early in the morning. Starting your day with nutritious protein rich breakfast kick starts your metabolism from waking hour one and saves you from disastrous snacking habits later on in the day.
2. Ask any doctor and he will tell you the link between healthy breakfast ideas and stable blood sugar levels. Wholesome breakfast improves cognitive ability, enhances memory and elongates your attention span. Stop taking fast food early in the morning and see the change yourself.
3. Kids habituated to nutritious breakfast early in the morning are less prone to chronic ailments such as diabetes type 2 and heart diseases in later stages of their lives. 
Training your kids to start the day with healthy breakfast ideas is like giving them  health insurance for the upcoming adulthood.
4. Healthy breakfast recipes takes you off to a flying start and supports you to fight those dangerous cravings for street food or unhealthy snacks during the whole day.
5. Choosing wholesome grains such as oats, brown rice or barley as breakfast choices gives a new life to the healthy bacteria in your gut. Protein deficient fast food would surely puncture your digestive system rather than filling gas into it.
choices gives a new life to the healthy bacteria in your gut.  
What to eat for breakfast – healthy breakfast ideas

1. French Toast – A large majority of office-goers swear by the name of toast for early morning appetite. French toast fits the bill mainly due to low calorie count and negligible cooking time.
Besides being an easy breakfast idea, French toast supplies adequate energy to last till lunch time. Boost the nutrition quotient by muddling the french toast in fresh yoghurt and delicious fruits. Yoghurt is an excellent source of veg protein and fruits provide essential vitamins, minerals and carbs ranking French toast high amongst healthy breakfast recipes.
2. Oatmeal

Doctor for cardiac health, rich source of fibre and keeps cholesterol levels in control, that's Oatmeal for you. Baked Oatmeal is widely advised by doctors for working professionals following a sedentary lifestyle.

Oatmeal is the most simple yet effective way to soothe breakfast table nerves. Taking Oatmeal in breakfast means bundling up carbs, vitamins and minerals in the same meal. Add a glass of fresh milk or yoghurt to top-up your energy balance with a bumper recharge.
3. Waffles

Waffles score a high five on the breakfast table partly due to designer shapes and variety of toppings. Start your day with crispy waffles drained in the goodness of yoghurt, fruits and syrup. Yoghurt adds the protein pack to the wholesome flour batter.
This healthy breakfast recipes is easy to digest and supplies essential nutrients like protein, vitamins and minerals like calcium, phosphorus etc.
4. Boil some rice and cook a little lean meat/ fish

Do you believe in the 'old is gold' eating philosophy ? Then the evergreen formula of rice and lean meat must be your go-to resource. Rice fills you with energy and lean meat or vegetables pump protein in your muscles.
Best suited for those involved in some serious physical labour. Rice bowl with lean meat and seasonal veggies is a first-rate saviour for newbies in cooking. Dietitians around the world have regarded it as the most reliable combination of carbohydrates and protein in the same meal.
5. Cottage cheese
Cottage cheese is a unanimous option for family breakfast. Whether it is school tiffin for kids or healthy office lunch, cheese is a healthy breakfast idea that you cannot miss. Balance the riches of protein with berries, fruits and yoghurt to tick all nutrition boxes.
What goes in favour of Cottage cheese is that it hardly takes any preparation time and available almost everywhere. It might look like a mundane easy breakfast idea but a little bit of experimentation by using different varieties of fruits will provide the much needed colour and flavour. Supplementing cheese with toasts, Canadian Bacon or fruit custards will definitely make it attractive for all the family members.
6. Whole wheat Bagel garnished with tomato, hummus and cucumber
Hummus garnishing is the heart of this dish containing all the key ingredients of a healthy breakfast idea. Commonly known as chickpeas, hummus is a rich source of fibre, vitamin and Minerals.
Preparing hummus in advance will help you to prepare this healthy breakfast recipe in quicker time. Drop in at your nearest grocery store and buy some well toasted whole wheat Bagel full of multivitamins. Now use your hummus as the topping with some freshly sliced tomato and cucumber to prepare this breakfast.
7. Serving of tofu  with your favourite fruit smoothies
Tofu is a commonly used source of protein in western countries like USA and UK. If you don't like eating fruits, why not drink them.
Put all your favourite apples and bananas in a blender and your homemade morning tonic is ready. These fruit smoothies are rich in vitamins, minerals and water. The terrible combination of Tofu and fruit smoothies will recharge your batteries for the entire day.Add a little bit of cucumber and well sliced tomatoes to make it wholesome and healthy breakfast idea.
8. Homemade granola bars
Granola bars are quickly becoming popular amongst kids who run away from a glass of milk.Even parents don't mind resorting to this healthy breakfast idea because of the numerous health benefits. Buying Granola bars from the nearest grocery store is not a bad idea.
But if you really want to enjoy the bountiful benefits out of your granular bar, we would suggest you to prepare it at home. Breaking the granular mixture in your own microwave oven will keep it fresh and preserve all the nutrients. Oats and Nuts are well known warehouses for proteins vitamins and minerals.
This healthy breakfast recipe will keep your heart in good shape without compromising on your energy needs.
9. Spinach salad
Learn from Popeye The Sailor and start your day with the Spinach salad. Iconic cartoon character Popeye banked upon spinach for power and muscles. You can feast on the Spinach magic everyday to transform your breakfast into a healthy breakfast idea.
Spinach adds Vitamin fibre and Calcium your breakfast. For an added dose of protein you can try a topping  hard boiled eggs, deeply baked bacon and some fresh tomatoes.
10. Whole wheat Pita sandwich
Sandwich has been an easy breakfast idea for calorie conscious people. Stuffed wheat sandwich is low on calories, lower on fats but high on nutrients. It has all the making of a blockbuster at the breakfast table. Lean meat, Fish, Cheese, Vegetables etc can all be used as stuffings for this sandwich.
Availability of protein, vitamins and whole grains propels the whole wheat Pita sandwich as a healthy breakfast idea.
11. Tweak your Pizza morning as healthy breakfast ideas
English Muffin pizza is an easy breakfast idea for those who rush to office every morning. Easy Breakfast recipe can be quickly prepared in the early morning hours. An extra dose of nutrients can be added to your pizza by choosing the healthy options as pizza topping.
Canadian bacon, Mozzarella cheese, cucumber and thin sliced tomatoes would go down well as the perfect pizza topping. English Muffin pizza is a healthy breakfast idea which includes all the Essentials nutrients like vitamins and minerals for supporting your outdoor errands.
12. Burritos
Burritos is undoubtedly your are most budget friendly and healthy breakfast recipe. Nutrition experts have time and again highlighted the longevity benefits of eating eggs in the morning hours.  Eggs are a rich source of protein containing all the ingredients of a balanced diet. Scrambled eggs and milk are heated in a microwave oven.
Scrambled eggs, sausage and cheese can be folded over to make a burrito and left in the freezer for sometime. Take it out  of the freezer and burritos are ready to serve it some spicy and tasty sauce . This makes burritos an easy breakfast Idea as well.
A healthy breakfast idea has the potential to make an ordinary day special. Our easy breakfast recipes will be a friend, philosopher and guide throughout your dream journey to health, vitality and longevity.