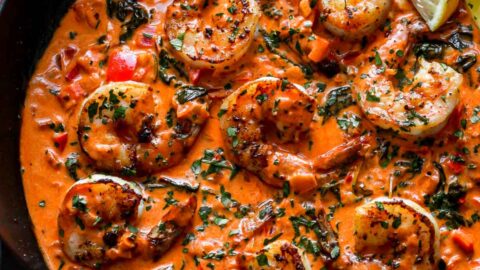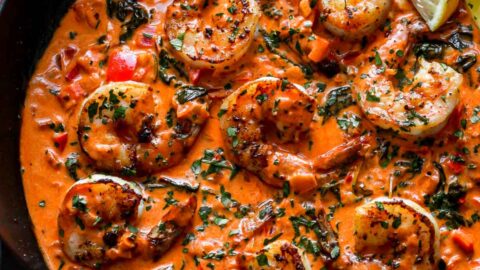 The preparation of this speedy and delectable weekday dinner, Creamy Garlic-Paprika Shrimp Skillet, takes just 30 minutes from start to finish. Featuring shrimp that has been pan-seared with spinach and red peppers in a creamy garlic sauce that also has parsley and lemon. You can serve this dish with rice or orzo, or you can enjoy it with crusty bread for dipping.
During this time of year, when our schedules are more packed than usual, we need meals that can be prepared quickly, that require few ingredients, and that can feed many people.
It is even better when those meals are not only satisfying but also extremely tasty and healthful.
This shrimp skillet recipe is here to keep you full and content, and it checks all the boxes on the list. The following are some of the significant advantages of preparing this dish:
ONE PAN
Quick + Easy
High Protein
HOW TO MAKE A SHRIMP SKILLET WITH GARLIC AND PAPRIKA
Tomato paste, garlic, paprika, and lemon are some of the major flavour enhancers that are utilized in this recipe. The sauce is really substantial, but it is brightened up with some fresh lemon juice and a scattering of parsley.
In addition, you can substitute chicken or salmon for the shrimp in this dish if you prefer not to eat shrimp. The instructions are the same as before; simply cook the protein until it reaches the amount of doneness that you choose.
Shrimp
Shallots
Tomato Paste
Red Pepper
Garlic
Paprika
Broth
Spinach
Heavy Cream
Lemon
THE DIRECTIONS
STEP 1: SAUTÉ SHRIMP
Heat 2 Tbsp. Olive oil in a large skillet over medium-high. Salt and pepper should be distributed evenly over the shrimp.
When the oil is ready, place the shrimp in the pan so that none of them overlaps (if possible). Cook the shrimp for three minutes, flip them over and then cook them for an additional minute until they are firm when touched. Place on a platter and set aside.
STEP 2: COOK AROMATICS
Turn the heat down to medium and add the shallots and red pepper flakes to the pan. Also, add the remaining olive oil. Cook for three minutes, or until the vegetables begin to get softer. Cook for an additional two to three minutes after adding the garlic, tomato paste, and red pepper flakes, until the mixture becomes aromatic.
STEP 3: DEGLAZE PAN
Pour broth into the pan to deglaze it, then decrease the heat to low and simmer for five minutes, or until the liquid is reduced by half. Mix in the paprika, then add the spinach and heat for two minutes, until the spinach has wilted. In the end, mix in the heavy cream, followed by lemon juice.
STEP 4: ADD SHRIMP AND SERVE
After the shrimp have been cooked, place them back into the skillet and turn off the heat. You can serve this dish over rice or orzo, or you might eat it with some crusty toast.
SERVING SUGGESTIONS:
This shrimp skillet recipe is one of my favourites to serve with rice or orzo. Alternatively, you may eat it as it is with some crusty bread and use it to dip into the sauce. In terms of sides, the following are some of my top recommendations:
Roasted Veggies: Try your hand at making my Favorite Roasted Broccoli or this Moroccan Roasted Cauliflower dish.
Salad: This Cucumber-Avocado Salad is a great option for a quick and easy side salad that is also very refreshing. My Easy Lemon-Artichoke Orzo Salad is another dish that will never steer you wrong.
HOW TO STORE AND REHEAT:
To Store: The maximum time that leftovers can be stored in the refrigerator is three days.
To Reheat: Reheat the leftovers in an oven-safe skillet coated with nonstick cooking spray over low heat in an oven. Alternately, you might reheat individual portions in the microwave for 30 seconds at a time, pausing after each increment to stir the food. To help revive the flavour of the leftovers, squeeze some additional lemon juice over the top.
To Freeze: Freeze for up to three months in an airtight container that is appropriate for use in the freezer. Before reheating, give it a night in the refrigerator to defrost completely. After being thawed, the shrimp may end up having a different texture, but the flavour should remain outstanding!
If you decide to give this shrimp recipe with garlic and paprika a shot, please let me know how it turns out!