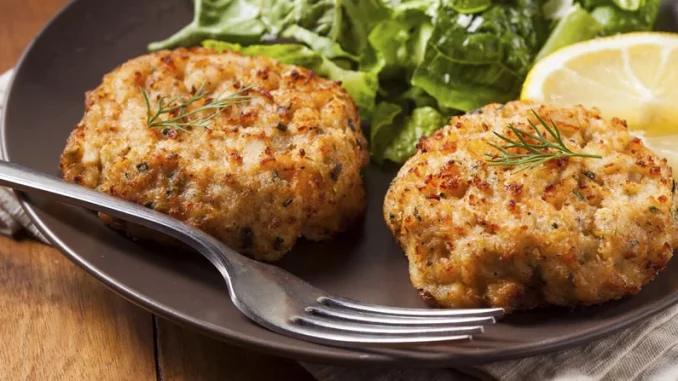 The Dietary Guidelines for Americans recommend eating seafood twice a week, so here's a recipe for Maryland-style crab cakes to help you get there. Take advantage of the health advantages of shellfish by splurging on these crab cakes.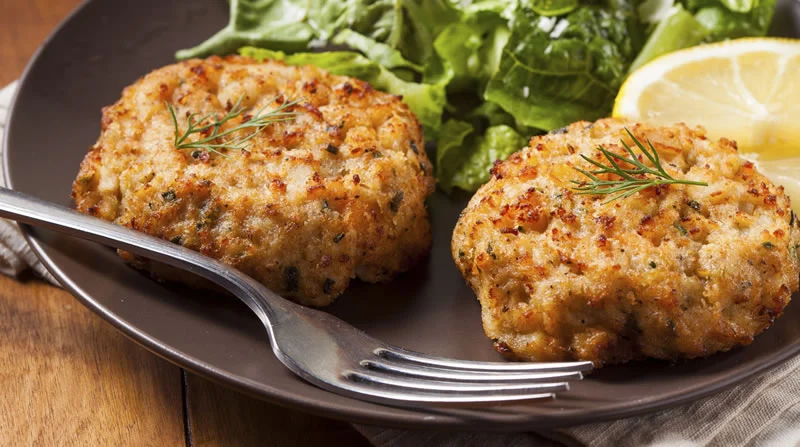 Eating shellfish like crabs, scallops, shrimp, or lobster is good for your health in many ways. They are lean sources of high-quality protein.
Two omega-3 fatty acids, EPA and DHA, are good for your heart and there is some promising evidence that they can help with mild Alzheimer's disease.
This vitamin is important for a healthy nervous system and for the brain to grow and work properly.
An essential component of red blood cells, bone, collagen, and connective tissue is copper.
It helps heal wounds by boosting the immune system. Insulin secretion and storage are two further functions of this protein.
Snow crab and blue crab are less expensive, while king crab is the most expensive. The price is high because there aren't enough of them, the season is short, getting them takes a long time, shipping is expensive, and they don't last long.
Jumbo lump, backfin, special, and claw meat are the most common varieties of crab meat on the market. To prepare crab cakes, many people opt for the sweet and large jumbo lump blue crab, but you can also use a combination of crabmeats. A proper Maryland crab cake is made of bits of crab that can be clearly seen.
In today's recipe, we use just enough bread crumbs and mayonnaise to bind the crab cakes together. The crab's flavour is heightened by the addition of the remaining components. Healthy lunch or supper ideas include these as an appetiser or alongside a simple green salad.
Maryland-style Crab Cakes
Makes: 12 crab cakes / Prep time: 20 minutes (plus chilling time) / Total time: 1 hour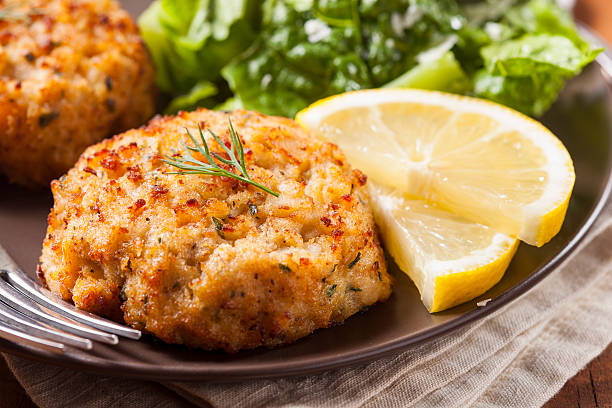 2 tablespoons fresh lemon juice
1 teaspoon Worcestershire sauce
1 tablespoon Dijon mustard
1 teaspoon hot pepper sauce
2 tablespoons low-fat mayonnaise
2 eggs, lightly beaten
1 ½ teaspoons ground coriander
¼ teaspoon black pepper
1 teaspoon garlic powder
1 cup finely chopped red bell pepper
¼ cup finely chopped green onion
¼ cup finely chopped celery
2 tablespoons fresh chopped parsley
1 pound fresh jumbo lump crabmeat (drained and picked)
½ cup whole-wheat panko breadcrumbs
2 tablespoons olive oil, divided
Using a stand mixer fitted with the paddle attachment, blend together the egg whites and low-fat mayonnaise until smooth. Make a paste by combining all of the ingredients in a food processor or blender.
Fold in the crab meat and panko until just combined. Make 12 patties with the mixture, each requiring approximately 13 cups. 30 minutes in the refrigerator is all you need to chill the crab cake patties.
When you're ready to cook, heat a nonstick skillet with 1 tablespoon of olive oil over medium heat. About 5 minutes on each side, or until golden brown and just firm. Add six of the crab cakes to the pan.
Plate up the crab cakes after they've been cooked. In the skillet with the remaining 1 tablespoon olive oil, cook the second batch of crab cakes. Serve immediately.
It contains 91 calories, 4 grammes of carbohydrates, 8 grammes of protein, 191 milligrammes of salt, 59 mg of cholesterol, and 1 gramme of fiber. One protein is exchanged for one vegetable in this meal.